Hello Dcomixers and Steemians! Fish Scales, a satirical funny comic strip with uncanny characters [Planky, Minny, Dolphy, Sharky, and Whaly] illustrated and written by @timliwanag, is now published under Dcomix.com.
Just like what we said in the last post, "we are testing the alpha platform for all upcoming webcomics set up" but Fish Scales is the first ever Dcomix comix on site. So with the simplest theme from WordPress and the open source SteemPress plugin, we are all set to launch new comics at Dcomix.com and earn from them. Thanks to @fundition and all Steemians who made a donation!
DCOMIX Comics Webspace Review
The comix Fish Scales has its own site address [https://dcomix.com/fishscales/] with a WordPress Twenty Seventeen theme that is capable of embedding a spectacular video or a colorful bunch of moving images for its header.
The creator can personalize his webcomic site by utilizing the multiple sections on the frontend as well as using the common widgets, navigation, and social menus. The default 2017 theme is also mobile/tablet-ready and has a built-in translation button that you can activate in order to read the site's content in other languages.
The AddToAny sharing plugin at the bottom of your posts and pages allows you to share your content to over a 100 social media sites and apps.
Additionally, you can use advertisements and earn from them if you want to enroll through Google Adsense or any other affiliation program. Just register your site, use the html widget, add the code, and you'll have it displayed at the sidebar.
Most of all, you have a Steem-backed website that has been made possible by SteemPress plugin. If you have a Steem account, you'll be able to see your content there too from your original Dcomix post. Upvotes, at the moment, will be done on your Steemit account. However, your content takes the spotlight, regardless whether your viewers or followers arrive by smartphone, tablet, or laptop.
If ever you get tired of the WP 2017 theme, you can switch to another theme, namely Alizee, 2015, or 2016. All of the themes offer a variety of features that will be useful to your taste and creativity.
Why Invest In Dcomix Platform?
You can find webcomics hostings everywhere but you've probably realized by now that Dcomix is powered by the Steem ecosystem, the crowdfunding assistance of Fundition.io, and SteemPress. When this project reaches its alpha stage fulfillment, we are anticipating the security needs of the platform and the needed word-of-mouth promotions through social media posts.


As you can see, Dcomix project is already 30.16% funded. The target goal is $1000. We have only used a small amount from the seed fund to pay for the domain name, hosting service, transaction fees, fares, etc.
The help from Steemians and Funditians proved crucial but the formal setting up of a Dcomix Team remains a challenge. We will move on in this journey together as social innovators. We are committed to bringing you a good service that even 13 year-olds can join and earn from their comics creations.
Let's aim for an  individual Steemit account for each new webcomic creation.
We hope that Fish Scales will have its own Steemit blog too.
So we want to show you our appreciation for the Steem community by giving you the first ever Dcomix comic strip Fish Scales today and a formal invitation soon to test Dcomix.com platform. If you're really interested now and eager to make a Dcomix comix, just contact us.
Webcomics creators worldwide can join the Steem blockchain and earn from their craft and, with your help, Dcomix project can surely meet its goal. Please feel free to contribute by doing the following:
HOW TO HELP
If you want to support us, you can help by:
UPVOTE — Vote this post and you'll become a Dcomix supporter
RESTEEM — Resteem this post so that Dcomix Project could reach more people
SEND SBD — Steem Dollar of any amount
SEND STEEM — STEEM of any amount
SEND CASH — Through PayPal, you can send $10 minimum
Because together we can build a better future for webcomics creators through Dcomix.com.Thank you so much. Enjoy your day! Hey, don't forget to upvote and resteem.
Sharing ♥ through Fundition…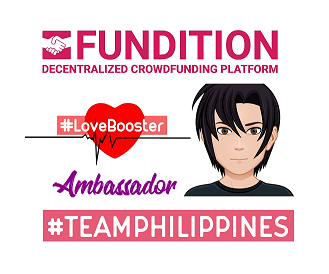 **********
This positive vibe is what DCOMIX is all about. We hope that by putting up a decentralized webcomics platform, we would be able to provide you an amusing place to have a better perspective and a better life to those who want to earn from their artworks.
Fundition is helping us in this simple beginning and we are thankful for the seed fund that we are receiving. So with the crowdfunding system, join our goal to help the webcomic creators survive and grow. We look forward to your donations to provide an opportunity for hundreds of artists to earn and be featured through DCOMIX.
Be our Backer and Supporter by voting for us. Click the linked image to donate any amount…

Visit DCOMIX Domain in Discord today!