DCOMIX.com's alpha site in Steem ecosystem is steemit.com/@dcomix.
If you see Dcomix project as a helpful innovation for webcomics creators to join the Steem blockchain and earn from their creations, please feel free to donate any amount.
HOW TO HELP
If you want to make a contribution, you can help by:
UPVOTE — Vote this post and you'll become a Dcomix supporter
RESTEEM — Resteem this post so that Dcomix Project could reach more people
SEND SBD — Steem Dollar of any amount
SEND STEEM — STEEM of any amount
SEND CASH — Through PayPal, you can send $10 minimum
Because together we can build a better future for webcomics creators through Dcomix.com. We hope that by putting up a decentralized webcomics platform, we would be able to provide you an amusing place to have a better perspective and a better life to those who want to earn from their artworks.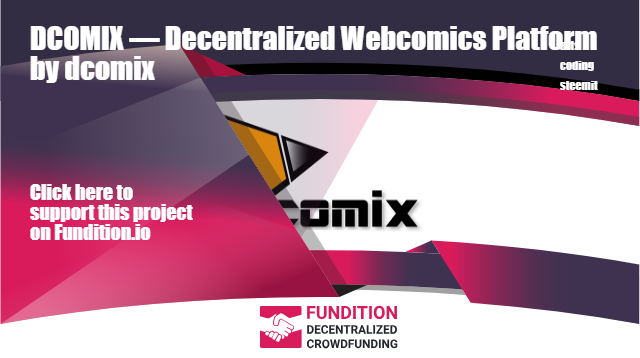 Fundition.io, the decentralized crowdfunding platform, is helping us in this simple beginning and we are thankful for the seed fund that we are receiving. So with the crowdfunding system, join our goal to help the webcomic creators survive and grow. We look forward to your donations to provide an opportunity for hundreds of artists to earn and be featured through DCOMIX.
Be our Backer and Supporter by voting for us. Be a Funditian and click the linked image above to donate any amount. Thanks in advance for your wonderful contribution.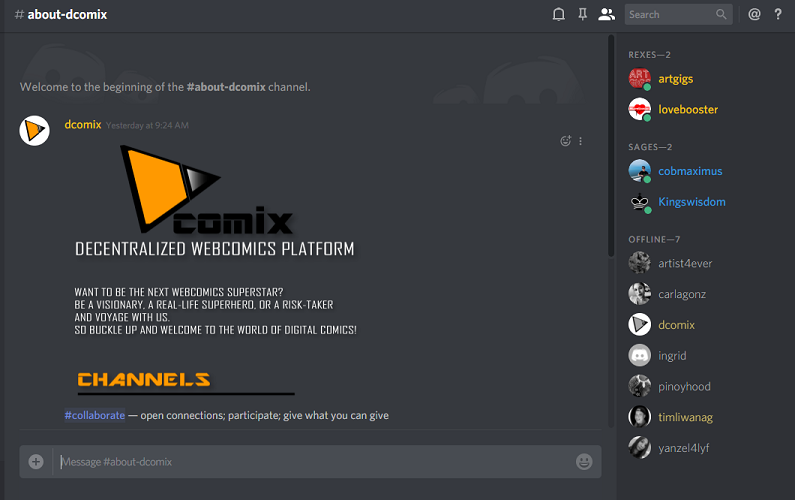 Discord is a great communication tool for real-time networking and, distinctly, DCOMIX is now online with its own server and motivating channels! We do have roles to stand for what we are doing. We are somewhat like chess pieces believing in active participation and teamwork. The job of one person is the job of everyone. And trust is a big factor in moving this platform project forward but empowerment will speed up this wonderful venture.
So we are inviting you to join us, invest on DCOMIX, and help us develop it with love for webcomics creators and their creations. Let your generous word-of-mouth support for its establishment reach the ears of every Steemian.
Visit DCOMIX Discord Server today!